Address [map]
CODA Building, IISP: GTISC Lab (10th floor, Eastside)
756 West Peachtree St NW,
Atlanta, GA 30332-4016
Airport: Jackson Hartsfield Airport (code: ATL)
Taxi: ~$35 dollars (15-25 min)
Subway (Marta) : $2.50 dollars (25-40 min)

Atlanta Airport Station --10 stops (21 min)--> North Avenue Station
For the shortest and most sheltered walk from rain, heat or cold weather

Follow signs on the North Avenue train platform to the "Fox Theatre/AT&T exit" (somewhat hidden at the north end of the platform)
After exiting the fare gates, walk straight ahead through the shopping mall, which will take you to "3rd St".
Turn left on "3rd St"
Turn right on "West Peachtree St".
"CODA building" is one blocks up on the left at "4th St".
Guest parking
Please find a direction (short cut) to the CODA building below: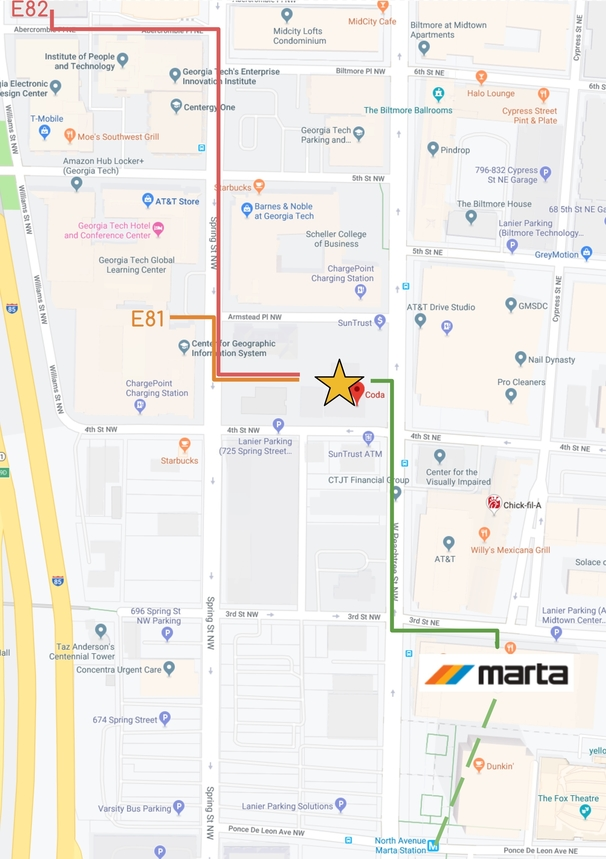 Hotels